The name of this blog is a mouthful.
I know it better than anyone when I have to type it into the address bar, ftp server, etc.
But the name is purposeful and has a lot of meaning.
If you look at the right side of this blog, under "RECENT POSTS", you'll see the "TOOLBOX", which is chock-full of awesome tutorials, videos, podcasts and other resources. It's all there to help you figure things out on your own, do things yourself (DIY) or do things with others(DIT, Do-It-Together)!
In recent years, there has been a subtle undercurrent that I feel has been diluting the solution-driven, permaculturist movement, and the name of this blog also addresses that on some level.

You see, there are a whole lot of Lone Wolf types out there, who think that the way to address breakdowns in culture and infrastructure is to hole-up, hunker down, create a wall of resistance, and hoard. They might apply this approach to many different situations – a hurricane, new neighbors, or even general overall uncertainty.
I've seen the "I'll protect me and mine" mindset one too many times, and I believe that it creates more problems, because it's furthering the idea of scarcity and rigidity. Rigidity is not Resilience, but is often mistaken for it, when paired with a huge body of DIY-type knowledge.
But knowledge is not wisdom. And rigidity is not resilience.
The name of this blog is about what it says- "resilience", and applying it to how we "exist" in the world. But also, if you remove a bunch of the letters, you are left with the word "RESIST".
It is a reminder that there are a whole lot of options to go through before one must resort to simply resisting. I do believe that resisting has its time and place, but I am of the firm belief that energy flows wherever your attention goes. If you put your attention and energy into resistance, you're going to meet a wall. If you put your attention and energy into creating alternatives and solutions, you may get better results.
I was once involved with creating a public charter school, and the biggest lesson I learned from that experience was gleaned by watching not the kids, but the parents. I recognized that there was a distinct split into two types of parents. On the one hand, there were the parents who totally believed in the mission of the school and wanted their children to be in an environment that encompassed the ethics, processes, etc. that were our vision. On the other hand, you had parents who were dissatisfied with the local public schools, many having had bad experiences, and just wanted their kids to go "somewhere else" that wasn't an expensive private school. The first group may have also had bad experiences with other schools, but were more focused on building what they WANTED. The second group was more focused on what they DIDN'T want. It was often this second group that created drama, made it difficult to get through a board meeting, issued unrealistic demands, and in the end, even caused one incident that cost the school tens of thousands of dollars! I realized that this was a prime example of creating what you put your energy into.
So… once again, I'll just mention that I think resistance can be useful. For instance, I think it is sometimes necessary when being applied to very large scale issues, like civil rights and social justice, when you really need something to give, shift or heave. Resistance can be non-violent and still work – just ask Ghandi or MLK Jr. But we've been conditioned to think of resistance as violent, so that is why I think that other options must be used first, even if they are just buying time while we are reflecting and looking ahead to the possibility of perhaps having to use any kind of resistance. The time that it takes for the "other letters to be removed", is necessary in order to properly assess what is needed and what would be useful.
Hidden within the name of this blog is a reminder to "slow down" and make sure that any resistance will promote resilience rather than rigidity, and also nurture the existence of all, rather than undermine it or create competition.
I hope this makes sense!
---
---
---
From:
http://www.huffingtonpost.com/2011/11/03/municipal-bank-san-francisco_n_1074600.html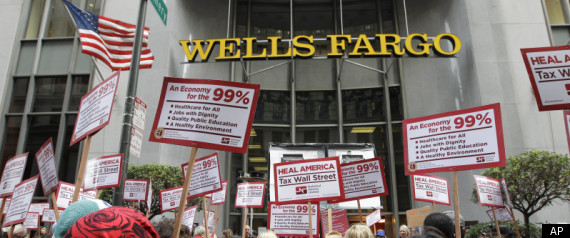 First Posted: 11/ 4/11 04:45 PM ET Updated: 11/ 7/11 02:17 PM ET
SAN FRANCISCO — On a typically foggy San Francisco morning, a few hundred protesters stood on the sidewalk in front of the Federal Reserve Bank of California's Market Street location in an effort to bring the wheels of high-finance capitalism to a grinding halt.
At their front, liberal city supervisor and mayoral hopeful John Avalos stepped up to the makeshift podium, a beat-up red megaphone pressed to his salt-and-pepper beard, to give one of the trademark rabble-rousing stem-winders that have earned him his status as the de facto progressive candidate in this month's contest.
If Avalos knows one thing, it's how to work a sympathetic crowd. Ringing up one applause line after another, the candidate hammered easy targets like the Wall Street bailout and tax cuts for the wealthy.
But one line in particular stood out. "San Francisco needs to look into starting its own municipal bank," he said. "We need to stop doing banking with the very people who wrecked the economy."
The assembled crowd, a motley assortment of union workers, mask-wearing anarchists and everyday people feeling trapped by high unemployment and a dour economy, erupted in a rapturous roar of support.
For the creation of a local government commission.
To study an obscure form of banking.
That a politician could so easily get an angry mob to instantly rally around an idea so inherently complicated is indicative of either his oratorical skill or the timeliness of the idea, or both.
As a rallying cry, "off with their heads" it's not; but a municipal bank may be just the thing to kick-start San Francisco's economy out of the doldrums. Or it could become a black hole sucking millions of dollars from the budget at a time when the city can least afford it.
The idea of creating a local municipal bank has been around for a long time. It was a demand of the 1975 San Francisco Community Congress, and the San Francisco Board of Supervisors commissioned a Legislative Analyst Report at the bequest of supervisor Matt Gonzalez on the issue in 2001.
Only two totally government-owned banks exist in the United States, neither of which are under the jurisdiction of an individual city. Around the world, a handful of cities (Berlin and Jakarta, for example) have been …
---
http://starhawksblog.org/?p=675
By
Starhawk
| Published: November 9, 2011
Alliance of Community Trainers is the training collective I work with.  Here's our statement to the Occupy movement on questions of violence, nonviolence and strategy:
From the Alliance of Community Trainers, ACT
The Occupy movement has had enormous successes in the short time since September when activists took over a square near Wall Street. It has attracted hundreds of thousands of active participants, spawned occupations in cities and towns all over North America, changed the national dialogue and garnered enormous public support. It's even, on occasion, gotten good press!
Now we are wrestling with the question that arises again and again in movements for social justice—how to struggle. Do we embrace nonviolence, or a 'diversity of tactics?' If we are a nonviolent movement, how do we define nonviolence? Is breaking a window violent?
We write as a trainers' collective with decades of experience, from the anti-Vietnam protests of the sixties through the strictly nonviolent antinuclear blockades of the seventies, in feminist, environmental and anti-intervention movements and the global justice mobilizations of the late '90s and early '00s. We embrace many labels, including feminist, anti-racist, eco-feminist and anarchist. We have many times stood shoulder to shoulder with black blocs in the face of the riot cops, and we've been tear-gassed, stun-gunned, pepper sprayed, clubbed, and arrested,
While we've participated in many actions organized with a diversity of tactics, we do not believe that framework is workable for the Occupy Movement. Setting aside questions of morality or definitions of 'violence' and 'nonviolence' – for no two people define 'violence' in the same way – we ask the question:
What framework can we organize in that will build on our strengths, allow us to grow, embrace a wide diversity of participants, and make a powerful impact on the world?
'Diversity of tactics' becomes an easy way to avoid wrestling with questions of strategy and accountability. It lets us off the hook from doing the hard work of debating our positions and coming to agreements about how we want to act together. It becomes a code for 'anything goes,' and makes it impossible for our movements to hold anyone accountable for their actions.
The Occupy movement includes people from a broad diversity of backgrounds, life experiences and political philosophies. Some of us want to reform the system and some of us want to tear it down and replace it with something better. Our one great point of agreement is our call for transparency and accountability. We stand against the corrupt institutions that broker power behind closed doors. We call to account the financial manipulators that have bilked billions out of the poor and the middle classes.
Just as we call for accountability and transparency, we ourselves must be accountable and transparent. Some tactics are incompatible with those goals, even if in other situations they might be useful, honorable or appropriate. We can't be transparent behind masks. We can't be accountable for actions we run away from. We can't maintain the security culture necessary for planning and carrying out attacks on property and also maintain the openness that can continue to invite in a true diversity of new people. We can't make alliances with groups from impacted communities, such as immigrants, if we can't make agreements about what tactics we will employ in any given action.
The framework that might best serve the Occupy movement is one of strategic nonviolent direct action. Within that framework, Occupy groups would make clear agreements about which tactics to use for a given action. This frame is strategic—it makes no moral judgments about whether or not violence is ever appropriate, it does not demand we commit ourselves to a lifetime of Gandhian pacifism, but it says, 'This is how we agree to act together at this time.' It is active, not passive. It seeks to create a dilemma for the opposition, and to dramatize the difference between our values and theirs.
Strategic nonviolent direct action has powerful advantages:
We make agreements about what types of action we will take, and hold one another accountable for keeping them. Making agreements is empowering. If I know what to expect in an action, I can make a choice about whether or not to participate. While we can never know nor control how the police will react, we can make choices about what types of action we stand behind personally and are willing to answer for. We don't place unwilling people in the position of being held responsible for acts they did not commit and do not support.
In the process of coming to agreements, we listen to each other's differing viewpoints. We don't avoid disagreements within our group, but learn to debate freely, passionately, and respectfully.
We organize openly, without fear, because we stand behind our actions. We may break laws in service to the higher laws of conscience. We don't seek punishment nor admit the right of the system to punish us, but we face the potential consequences for our actions with courage and pride.
Because we organize openly, we can invite new people into our movement and it can continue to grow. As soon as we institute a security culture in the midst of a mass movement, the movement begins to close in upon itself and to shrink.
Holding to a framework of nonviolent direct action does not make us 'safe.' We can't control what the police do and they need no direct provocation to attack us. But it does let us make clear decisions about what kinds of actions we put ourselves at risk for.
Nonviolent direct action creates dilemmas for the opposition, and clearly dramatizes the difference between the corrupt values of the system and the values we stand for. Their institutions enshrine greed while we give away food, offer shelter, treat each person with generosity. They silence dissent while we value every voice. They employ violence to maintain their system while we counter it with the sheer courage of our presence.
Lack of agreements privileges the young over the old, the loud voices over the soft, the fast over the slow, the able-bodied over those with disabilities, the citizen over the immigrant, white folks over people of color, those who can do damage and flee the scene over those who are left to face the consequences.
Lack of agreements and lack of accountability leaves us wide open to provocateurs and agents. Not everyone who wears a mask or breaks a window is a provocateur. Many people clearly believe that property damage is a strong way to challenge the system. And masks have an honorable history from the anti-fascist movement in Germany and the Zapatista movement in Mexico, who said "We wear our masks to be seen."
But a mask and a lack of clear expectations create a perfect opening for those who do not have the best interests of the movement at heart, for agents and provocateurs who can never be held to account. As well, the fear of provocateurs itself sows suspicion and undercuts our ability to openly organize and grow.
A framework of strategic nonviolent direct action makes it easy to reject provocation. We know what we've agreed to—and anyone urging other courses of action can be reminded of those agreements or rejected.
We hold one another accountable not by force or control, ours or the systems, but by the power of our united opinion and our willingness to stand behind, speak for, and act to defend our agreements.
A framework of strategic nonviolent direct action agreements allows us to continue to invite in new people, and to let them make clear choices about what kinds of tactics and actions they are asked to support.
There's plenty of room in this struggle for a diversity of movements and a diversity of organizing and actions. Some may choose strict Gandhian nonviolence, others may choose fight-back resistance. But for the Occupy movement, strategic nonviolent direct action is a framework that will allow us to grow in diversity and power.
From the Alliance of Community Trainers, ACT
Lauren Ross (or Juniper)
To comment or endorse this statement, got to:
---