From:
http://www.huffingtonpost.com/2011/11/03/municipal-bank-san-francisco_n_1074600.html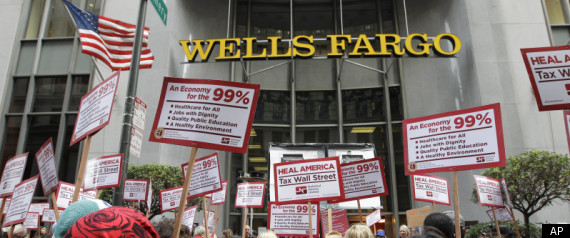 First Posted: 11/ 4/11 04:45 PM ET Updated: 11/ 7/11 02:17 PM ET
SAN FRANCISCO — On a typically foggy San Francisco morning, a few hundred protesters stood on the sidewalk in front of the Federal Reserve Bank of California's Market Street location in an effort to bring the wheels of high-finance capitalism to a grinding halt.
At their front, liberal city supervisor and mayoral hopeful John Avalos stepped up to the makeshift podium, a beat-up red megaphone pressed to his salt-and-pepper beard, to give one of the trademark rabble-rousing stem-winders that have earned him his status as the de facto progressive candidate in this month's contest.
If Avalos knows one thing, it's how to work a sympathetic crowd. Ringing up one applause line after another, the candidate hammered easy targets like the Wall Street bailout and tax cuts for the wealthy.
But one line in particular stood out. "San Francisco needs to look into starting its own municipal bank," he said. "We need to stop doing banking with the very people who wrecked the economy."
The assembled crowd, a motley assortment of union workers, mask-wearing anarchists and everyday people feeling trapped by high unemployment and a dour economy, erupted in a rapturous roar of support.
For the creation of a local government commission.
To study an obscure form of banking.
That a politician could so easily get an angry mob to instantly rally around an idea so inherently complicated is indicative of either his oratorical skill or the timeliness of the idea, or both.
As a rallying cry, "off with their heads" it's not; but a municipal bank may be just the thing to kick-start San Francisco's economy out of the doldrums. Or it could become a black hole sucking millions of dollars from the budget at a time when the city can least afford it.
The idea of creating a local municipal bank has been around for a long time. It was a demand of the 1975 San Francisco Community Congress, and the San Francisco Board of Supervisors commissioned a Legislative Analyst Report at the bequest of supervisor Matt Gonzalez on the issue in 2001.
Only two totally government-owned banks exist in the United States, neither of which are under the jurisdiction of an individual city. Around the world, a handful of cities (Berlin and Jakarta, for example) have been …
---